I FOUND IT!
This is the book you are looking for!
The one to get you out of that slump, take away the coronavirus blues, and to just bring some laughter and joy back into your life.
Kate Rorick's newest novel about high-stakes of nursery school parenting, motherhood, and modern day madness….
LITTLE WONDERS
 published 3/17/20
About Little Wonders
• Paperback: 384 pages
• Publisher: William Morrow Paperbacks (March 17, 2020)
If you like SMALL ADMISSIONS by Amy Poepell or CLASS MOM by Laurie Gelman you will love this novel about super mommies, private schools, and getting your worst moment plastered across the internet.
Her mommy meltdown is seen around the world!
When Quinn Barrett's son refuses to wear his hand-crafted costume to the Little Wonders Preschool Happy Halloween Parade and Dance Party she loses it — complete with stomping, screaming, and costume-destruction galore. Not her best day. And caught on viral video.   Yep, "Halloween Mom" is now internet famous.
The posting culprit: tattooed, blue-haired, west-coast transplant Daisy McGulch, out of place in the posh New England town and unable to blend with the other perfect mommies of Little Wonders Preschool.
While she couldn't care less about organic snacks (paleo-preferred) or the winter quarters of the Little Wonders chickens, she's not about to admit she's the one who accidently brought Quinn's worst moment to the entire world—she'd be kicked out of town!
But when Quinn and Daisy find themselves unlikely cohorts in the fight for Little Wonders Parents Association supremacy, they also discover they have more in common than they expected…but the internet is forever.  Can Quinn live down her new reputation?  And how far will Daisy go to keep the truth from coming to light?
Hilarious, clever, and unforgettable, Little Wonders offers a glimpse into the high-pressure world of modern momming, with natural toys, scrutinized playdates, PTA politics, and social media gone amok.
Review
We are all looking for "that" book right now and let me tell you, I think I found it!
Have you ever had one of those books that no matter what time it is, or how heavy your eyes are, you just couldn't put it down?  Well, LITTLE WONDERS was one of those for me.  This book was so good it was like I was watching Desperate Housewives pre-school moms version.
This book is like an out of control train.    Quinn, Shanna and Daisy, our three main characters not only have their own personal problems, but they are all parents of preschoolers at Little Wonders.  When Daisy accidentally catches Quinn having a meltdown in front of her child on video, she doesn't think anything of it until she sends it to her friends in L.A. for a laugh, where one of them posts it online and the darn thing goes viral.  Of course Quinn is outed at school (mainly because of snotty Shanna) and Daisy is beside herself because of the total mess she has made.  As expected, things just don't stop there and you become so vested in these true to life characters, that you have to stay on this crazy train until it either reaches its final destination safely, or crashes and burns in a hot mess.
There is a hilarious truth to this book and Kate Rorick seems to have nailed the preschool years like a champ.  The writing and dialogue is so spot on, you'd think you were dealing with your own school and neighbors.  This is pre-school parenting satire at its best, almost as if Rorick has shared with us a little bit of personal experience compiled in a fictional novel.  The book has such a good flow about it that you will be tearing through the pages without even knowing.  With family, preschool, and social media drama, you'd think all bases are covered, but its Rorick's small addition of the Little Wonders Preschool Monthly Newsletter and the color commentary of Suzy, the Parent Association Secretary that really hits this already comical and heart-warming novel out of the ballpark.
This one was un-put-downable.  If you are looking for something to get you out of a slump, or cheer your mood, or to just generally make you laugh, I highly recommend this read.  All my teacher friends out there will absolutely love this one, not to mention the preschool moms too!  (And props to Kate Rorick for making Daisy one kick ass character and dropping some awesome Star Wars dialogue in there too)! I gotta give this one 4 1/2 stars, but since Amazon and Goodreads won't let us do that I will definitely be rounding up!
Thank you to @williamorrowbooks, @noblerorick and @TLCBookTours for my gifted copy of this book.
Purchase Links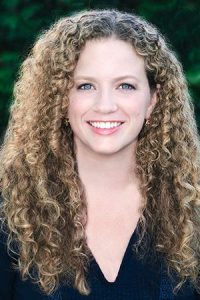 About Kate Rorick
Emmy Award-winning writer Kate Rorick is the author of novels about modern motherhood.  She is also a television writer and producer, most recently for The Librarians and Marvel's Cloak and Dagger.  She is one of the writers behind the runaway YouTube sensation The Lizzie Bennet Diaries, and authored its two tie-in novels.  In her vast spare time she is a bestselling author of historical romance, under the name Kate Noble. She lives in Los Angeles with her family.
Author Contact
Happy Reading and Be Nice!